"Science and technology revolutionize our lives, but memory, tradition and myth frame our response." – Arthur M. Schlesinger, Jr., U.S. historian. "The Challenge of Change," New York Times Magazine (July 27, 1986)

 "A myth is an image in terms of which we try to make sense of the world." – Alan Watts, British-born philosopher, writer, and speaker (1915 – 1973)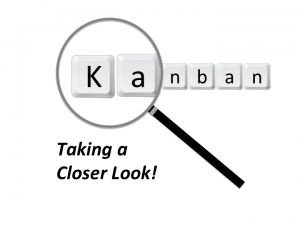 "What is the Kanban Method?"
It's not about replacing your current software development process.
It's not about changing or removing your team's current titles and roles or adding new ones.
It's not about a process that is only for support, maintenance, or "dev-ops" teams.
Does any of the above surprise you?
If so, maybe it would be useful and helpful to take a closer look at the Kanban Method from a different perspective.
Kanban Leaders Retreat (KLRUS) 
In November 2012 I attended the Kanban Leaders Retreat (KLRUS) in San Diego. Over two days there I had an opportunity to take part in a number of break out sessions with several other leading coaches, trainers, and practitioners of the Kanban Method. In one of the sessions we focused on identifying some of the "surprising" myths and misconceptions we were hearing about the Kanban Method while coaching, training, and working with others. As summarized by some participating, "there really is a lot of surprising 'stuff' out there!" In the context of this post I'll limit myself to providing a taste of our discussion there at KLRUS. In particular, focusing for the moment on a misconception I hear often, the Kanban Method: It's just Scrum with tweaks.
If you're just beginning to learn for yourself about the Kanban Method, I hope this post provides a useful foundational perspective to keep in mind as you continue learning, researching, and reading articles, posts, etc. For others more familiar with the Kanban Method already, I hope it provides a little insight into the misconceptions you're likely to run into, if you haven't already run into this one, and how some in the community are discussing them in ways we feel will help others see the Kanban Method from a more useful and different perspective. (more…)