Note: My colleague Dan Vacanti has also captured and expanded in greater detail on much of the topics touched on in this post, in his book titled "ActionableAgile" which you can learn more about here.
"The ability to take data – to be able to understand it, to process it, to extract value from it, to visualize it, to communicate it, it's going to be a hugely important skill in the next decades, not only at the professional level but even at the educational level for elementary school kids, for high school kids, for college kids. Now we really do have essentially free and ubiquitous data. So the complimentary scarce factor is the ability to understand that data and extract value from it."

"I think statisticians are part of it, but it's just a part. You also want to be able to visualize the data, communicate the data, and utilize it effectively. But I do think those skills – of being able to access, understand, and communicate the insights you get from data analysis – are going to be extremely important. Managers need to be able to access and understand the data themselves."

– Hal Varian, Google's Chief Economist, Jan 2009 – The McKinsey Quarterly
My previous post discussed how some of my earlier teams used T-shirt sizes for story level work items in their software development planning processes. But T-shirt sizes were only a part of what helped us get effectively predictable. The emphasis on just-in-time (JIT) story creation and story analysis, along with just-enough story and portfolio level backlogs (limiting work-in-progress or WIP), were also significant contributing factors. Two other key factors were de-emphasizing upfront estimating of level-of-effort and duration, and instead placing a greater emphasis on lightweight tracking of real (lead and cycle) times to complete and deliver story level work items. (See my earlier posts here and here for a bit more context and background on push vs. pull scheduling systems.)
I also discussed how some basic analysis of this lead time data and T-Shirt sizing helped us develop an internal service level of agreement (SLA) for completing story level work items. But this information also guided and shaped the policies we developed to influence the team's interactions and specific responses (pulled from our toolbox) in a JIT manner as information unfolded about a story's level of effort and duration. My observation is that all this contributed to us becoming predictable in a context where we never had been before using heavier upfront planning strategies. Based on my study of scheduling systems this combination reflected key pull scheduling characteristics, where the role of our software development workflow management changed from determining all operation activities upfront, to one focused much more on setting the rules for interactions (in turn influencing our work environment structures).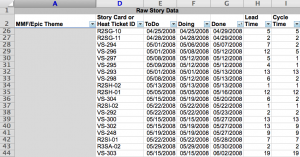 There's lots more analysis (mathematical and statistical) you can do using the minimal and easily collected data that produced the Basic Story (Lead Time) Metrics table and T-shirt sizes from my earlier post and that will have to wait for another time. For this post I want to focus on visualizing the information in this simple table to see if we might extract a bit more value from the modest analysis investment already expended.
I'll also build on this initial visualization, using a bit more (quick) low hanging fruit type analysis of the full raw data set represented by the earlier spreadsheet snippet, to produce a basic temporal (time) perspective of story lead times. Can adding a basic temporal perspective provide a number of other useful insights into understanding the nature of our workflow's story level work item lead times? (Both the earlier table and spreadsheet snippet are included here; click images to enlarge). To this basic temporal perspective, with a bit more new analysis on the existing raw data spreadsheet, I'll then add new information extracted to give a work item type perspective as well, and then overlay the T-shirt size information to this mix.
Finally, again with just a bit more analysis on the existing raw data, I'll visualize two other separate temporal perspectives using both percentages and frequency counts. Afterwards, let me know what you think. Do one or two of these other ways of visualizing the information in the earlier table and spreadsheet snippets help you and others access, understand, and communicate insights that leads to a more effective predictable workflow in your software development context? (continue reading…)